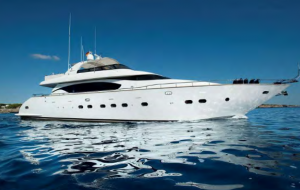 Cruising Area Summer
West Med, Spain
Cruising Area Winter
West Med, Spain
Brochure

CENTO.pdf
Accommodations
6 Adults plus 2 but preferable six maximum.
1 Master cabin with en-suite Jacuzzi bath.
1 VIP with en-suite bathroom
1 double guest room with en-suite bathroom.
1 double cabin has to share the bathroom with an other cabin. It can have direct access to the Master cabin.
Features
enders & Toys:
Tenders:
3.3 Williams tender, jet propelled with 3 inflatable sponsors, 102hp (engine rebuilt) for 4 adults and 1 child.
Toys:
2 Seabob F7
1 Wakeboard
1 Donut
1 Banana
2 Pairs of waterskis
9 Watersports swim jacket for adults
3 Watersports swim jackets for children (will be more soon)
14 Lifejackets
1 Watersport shorty XXL
6 Watersport shorty M-L
1 Watersport shorty for children (5 years)
Diving equipment for two (Rendezvous diving only):
3 Air Jackets incl BA
4 Bottles (have to be filled up onshore - no compressor)
1 Scuba Shorty XL - 9mm
1 Scuba Shorty XL - 9mm
2 Scuba Shorty L
Please Note: Yachts may not be available for charter or sale while the yacht is in U.S. waters. Yacht Charter Rates are subject to change. All particulars are believed correct but cannot be guaranteed.